Who plays a role in the RD process? Depending on the type of solicitation, this can involve staff from University Relations, the Office of Research, and the School of Engineering. Below is a structural view of how research support is organized at UCSC. The most important boxes on the chart from your perspective are those toward the bottom: the people you will work with one-on-one. (more on people)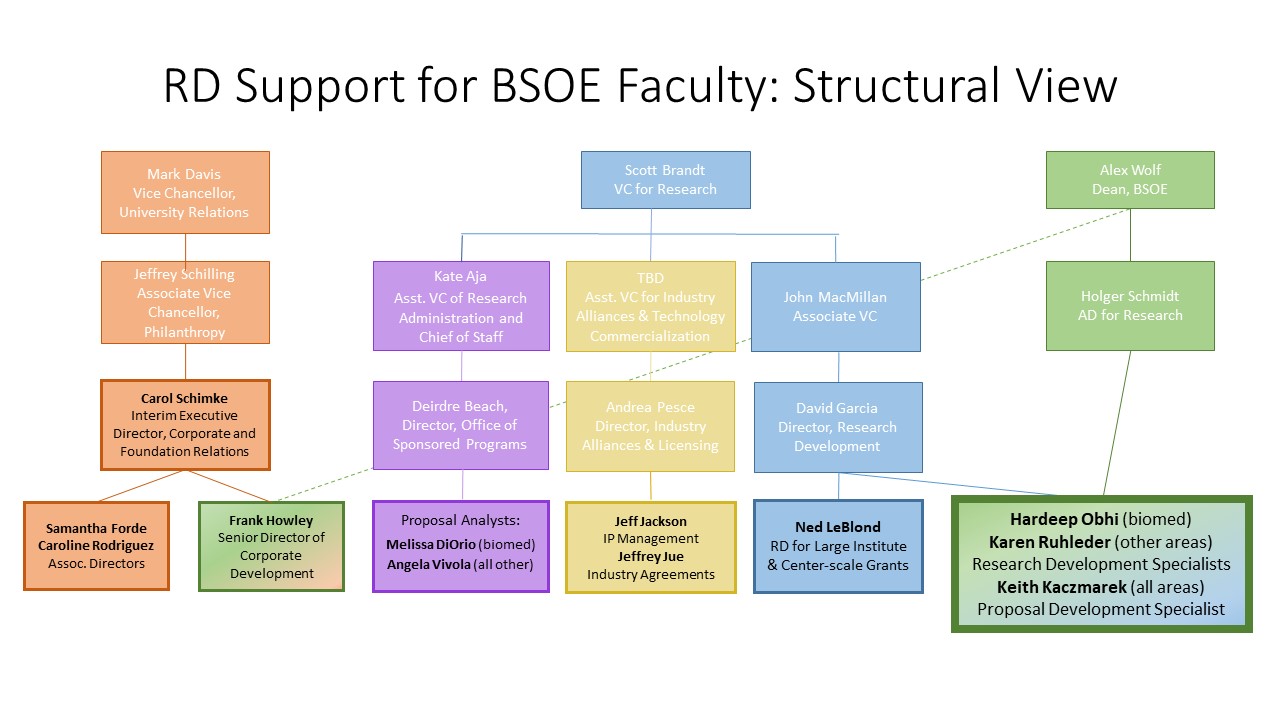 Although formally on different branches, these people work together on a regular basis. Each of their offices can play a role at one or more points in your proposal development. As you can see in the diagram below, the Planning & Preparation stage is key to getting everyone involved and on board with your project.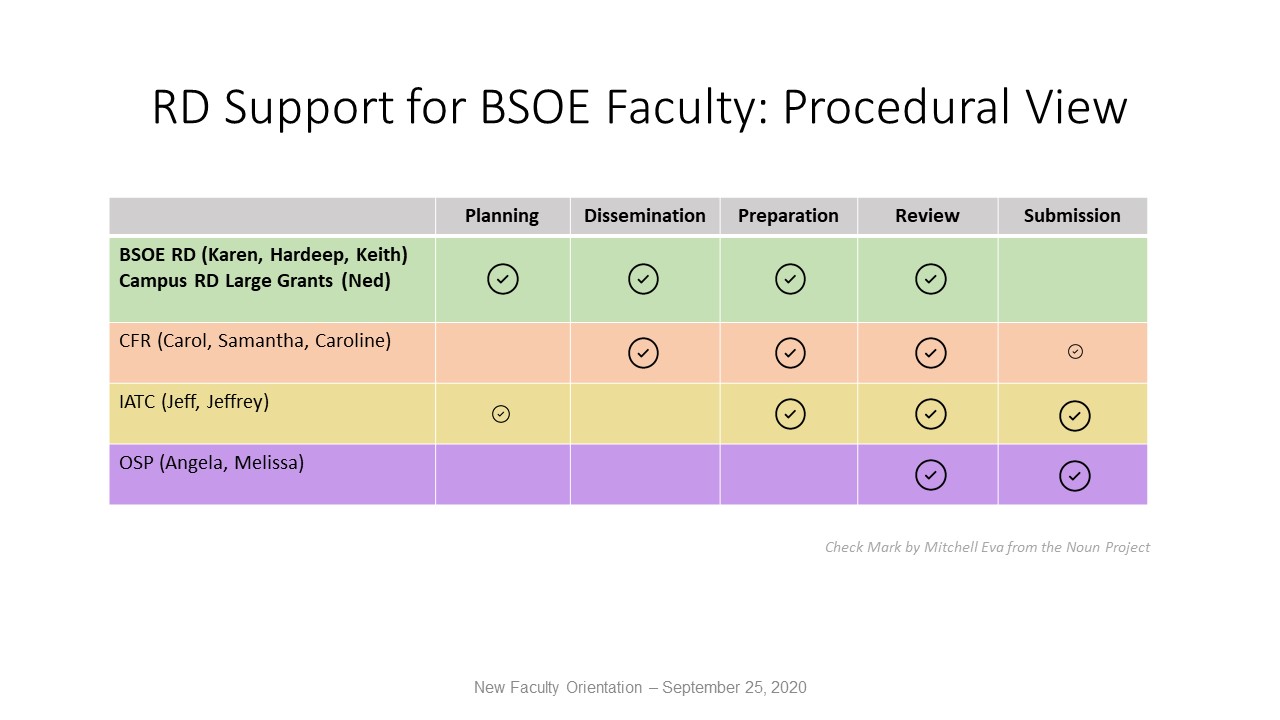 People Who Support Proposal Development
Units not represented here may play a role depending on the proposed project and nature of the solicitation. The following, however, are key campus players in the proposal development process.
Corporate and Foundation Relations (CFR) staff each have portfolios and manage the relationship between the university and major foundation that support research. They disseminate solicitations and instructions for the application. CFR can give guidance on what a funder is looking for, offer funder-specific feedback on proposal narratives, and serve as a liaison for questions about the application. Key people: Lynne Stoops (lstoops@ucsc.edu), Carol Schimke (cschimke@ucsc.edu), and Caroline Rodriguez (caroline@ucsc.edu)
Office of Sponsored Programs (OSP) staff are involved in proposals that require a budget and/or some form of reporting back to the funder. If in doubt, check with OSP. Their role is to check for certain types of compliance, e.g., making sure that all budget items are allowable under funder guidelines, making sure that all required documents are uploaded. They will also help you build your budget. Key people: Melissa DiOrio (madiorio@ucsc.edu) [biomed] and Angela Vivola (avivola@ucsc.edu) [other areas]
Industry Alliances and Technology Commercializatin (IATC) staff help faculty maintain rights to the intellectual property they develop. Even if faculty have no plans for commercialization, working with IATC assures that there are safeguards in place against someone else taking control of an idea and developing it for profit. IATC can help determine whether money from a corporation is gift or sponsored research agreement and draft, review and negotiate contracts, including the initial discussion of an idea under NDA. Key people: Jeffrey Jue (jljue@ucsc.edu) [contracts] and Jeff Jackson (jjackson@ucsc.edu) [IP]
BSOE Corporate Development supports faculty pursuing corporate sponsorship by helping them establish relationships and guiding them through the sponsorship process. Each situation is unique, and faculty are encouraged to discuss their interests and ambitions with Frank Howley (fhowley@ucsc.edu).
In-house RD support offers a range of customizable services to School of Engineering faculty. Key people: David States (dstates@ucsc.edu) [biomed] and Karen Ruhleder (kruhlede@ucsc.edu) [other engineering areas]
Resources and Services

Discuss plans for grantwriting and prepare individual "funding calendars"
Provide CAREER workshop materials, resources, and proposal samples
Offer proposal support at all levels and all stages

Search & Dissemination

Track postings on grants.gov, email lists, and newsletters, and send out information about opportunities as they are posted.
Maintain information on "Proposal Resources" webpage, including early career awards, funding chart to track announcements, and calendar of STEM education awards.

Planning and Preparation

Review the solicitation in detail
Attend webinars, read FAQs, identify past recipients
Analyze past successful proposals
Put together an outline and/or checklist
Identify non-technical collaborators (e.g., for CAREER education plans)
Create a timeline and process for team check-ins and hand-offs
Coordinate contributions from multiple teams and institutions
(OSP will help you build your budget)

Narrative Review

Read for clarity, balance, and audience-appropriate language
Consistency across sections/multiple authors
Check to make sure all required sections are included
Make sure all milestones/metrics are addressed
Check for "best practices" for proposal writing

Discussion of risks, potential problems, and contingencies
Timeline and management plan
Dissemination plan

Application Review

Check for overall conformance with guidelines
Collect and review non-budgetary documents from collaborators
Review components for consistency with primary narrative

Abstract/executive summary
Supporting documents (F&E, DMP, SOW, etc.)
Biosketch/CV for compliance and content

Limited Content Creation and Editing

Institutional description and basic demographics
STEM education grants "results from prior support" section
Editing for clarity and concision
Timeframe for requesting RD support within the School of Engineering
There are no rules or policies dictating how and when you need to request help. However, there are some guidelines to make sure that your proposal can receive full support:
Large projects, multiple institutions: from inception preferred
Coordinating with people in non-technical roles: 6-8 weeks
Soliciting materials and collecting data: 4-8 weeks
CAREER proposal: 4-6 weeks
Review and content editing: 2-3 weeks
Other timelines to keep in mind
Check the OSP website for standard and non-standard proposal deadlines.
If you plan to work with the Center for Innovation for Teaching and Learning, they require that you contact them:
minimum three weeks in advance if CITL personnel are being asked to serve as co-PI, collaborator, or evaluator.
minimum one week in advance to consider a request for a letter of support (copy of narrative required).